The FMP sensor is a multipoint temperature sensor in which multiple Type K sheathed thermocouples are enclosed in a single protection tube.
Using NND ultra-fine thermocouples, it is possible to measure 7 locations with a 1mm diameter protection tube.
This is useful when many sensors cannot be installed, or when it is desirable to eliminate the environmental impact of the sensor itself.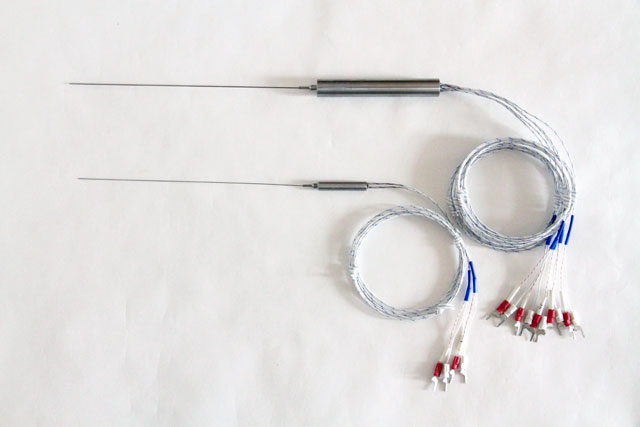 Upper photo: 5 measuring points in Φ1mm
Lower photo: 2 measuring points in Φ0.6mm
Construction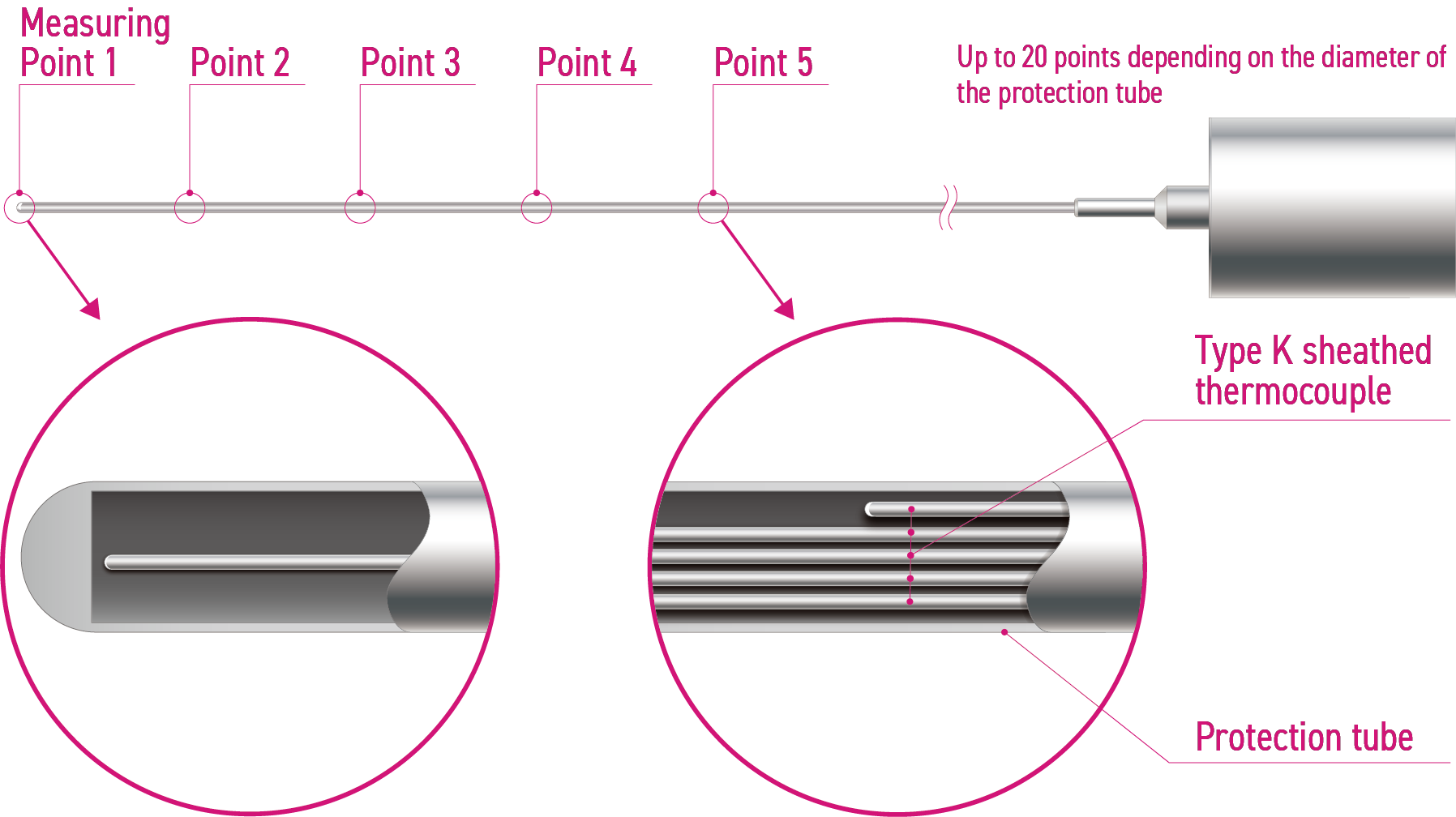 The measurement point can be set arbitrarily by changing the insertion length of Type K-sheathed thermocouple.
Specification (Type K)

| | | | |
| --- | --- | --- | --- |
| Diameter of Protection Tube (Φ) | Max No. of Mesuring Point | Max Lenght of L1 | Temperature Range |
| 0.6 | 2 | 200mm | Room Temp.~400℃ |
| 0.8 | 3 | 200mm | Room Temp.~400℃ |
| 1.0 | 7 | 500mm | Room Temp.~500℃ |
| 1.6 | 7 | 1000mm | -40~500 |
| 2.0 | 7 | 1000mm | -40~500 |
| 3.2 | 20 | 10000mm | -50~600 |
Up to 20 points can be measured with one protection tube.
When NND's ultra-fine Type K sheathed thermocouple is used, a maximum of 7 points can be measured with a 1mm diameter protection tube.
The operating temperature is suitable for medium and high temperatures up to 600 ° C. (Protection tube of Φ1.6 or more supports JIS class 3)
The shape of the protection tube can be processed according to the shape of the object to be measured.
The material of the protection tube is SUS-304, 316, 316L.(* Inconel and titanium are under development)
About Pricing

As the production range of MP sensors varies, please fill in the following drawings and send it by e-mail attachment or fax. Details will be discussed at the meeting.

Operating temperature
Protection tube outer diameter
Number of measurement points
L1 length
L2 length
Applications and application examples
Applications
Temperature distribution measurement in various furnaces and chambers.
Mold internal temperature distribution measurement.
Various liquid temperature distribution measurement.
Liquid level measurement (high temperature, low temperature).
Other
Application examples

Major gas company
Measurement of temperature distribution in a heat exchange vaporizer for vaporizing liquefied natural gas (LNG)
Auto parts manufacturer
Temperature measurement of diesel engine exhaust gas treatment filter
Major power company
Temperature distribution during sewage treatment
Each university
Development of sensors according to research purposes as well as general sensors
5. There are many other achievements
Production example